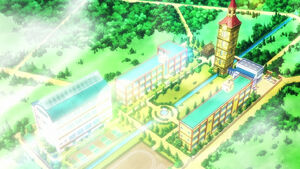 Tenbi Academy is a private prep high school located in Japan that recently converted from all-girls back to co-ed at the start of the series. Maken-Ki! begins with Takeru Ooyama's enrollment at the school.
Background
Tenbi Academy was created for students who possess magical and spiritual energies called Elements that allow them to wield crafted weapons known as Maken. The school serves to raise these young ability users so that they can learn to use their Maken in a nurturing environment. The task of teaching new ability users was originally done by Kamigari, who failed miserably at it.
All students are recommended to join a club in order to further develop their skills. It used to be a co-ed school before it changed to an all-girls school. The motto at Tenbi Academy is "Mentality, Beauty, and Physical" in the manga and "Brain, Beauty and Body" in the anime. The principal stated at the induction ceremony that the school's motto will remain unchanged even though Tenbi became co-ed.
The school is policed by the Maken-Ki, who are essentially the student council and settle all disputes between students at Tenbi. The members of Maken-Ki are among the most powerful in the school, which is a necessity in order to maintain peace.
The various faculty members that help run the academy.
All students currently enrolled at Tenbi Academy.
Alumni
Those who previously studied at Tenbi Academy.
Trending pages
All items (9)